Bimeda Announces Launch of ZincoIsel Sheep – A Trace Element Bolus Containing Zinc, Selenium, Iodine and Cobalt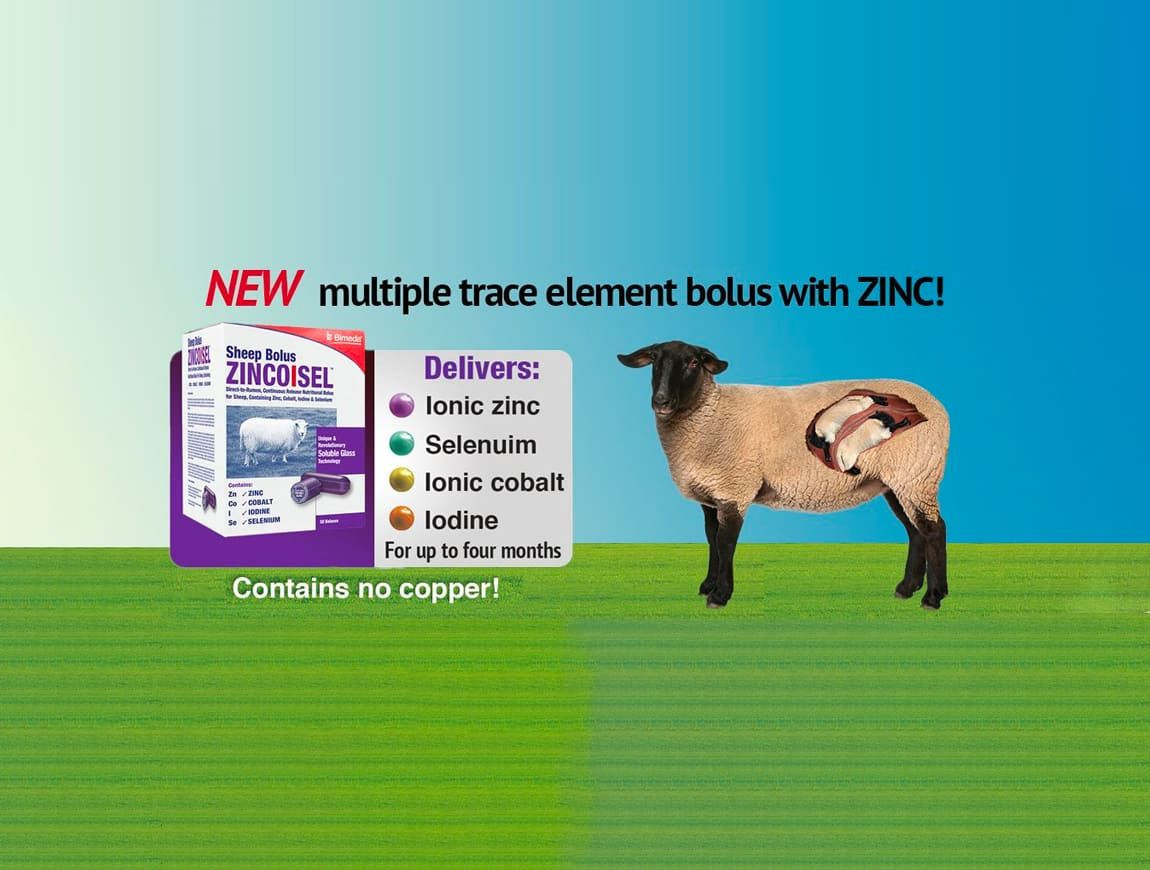 Bimeda is pleased to announce the addition of a new multiple trace element bolus for sheep to their nutritional range. The ZincoIsel Sheep Bolus delivers zinc, cobalt, iodine and selenium at a controlled and constant rate, which is compatible with the animal's daily requirements.
Bimeda Ireland's General Manager Andrew Glynn, commented, 'we are pleased to announce the launch of the new ZincoIsel Sheep Bolus to our soluble glass bolus range. Containing no copper, the bolus will be of particular interest for use in copper-sensitive breeds and housed sheep, where a need for supplementation of zinc, cobalt, iodine and selenium has been diagnosed and where copper supplementation needs to be avoided.
As the body cannot store zinc, iodine or cobalt, sheep must rely on a daily supply to meet nutritional requirements. The new ZincoIsel Sheep Bolus is made of a unique soluble glass, which is designed to release trace elements at a controlled and constant rate, at levels that are compatible with the animal's daily nutritional requirements.'
Zinc is essential for immune function and even marginal deficiency will affect immune response. Zinc also plays an important role in fertility and is essential for sexual maturity, reproductive capacity, and more specifically, for the onset of oestrus. Furthermore, zinc is associated with hoof, udder and skin health, as well as with wound healing. Where zinc, selenium, iodine and cobalt deficiencies have been identified, Bimeda's new ZincoIsel Sheep Bolus could be an appropriate form of supplementation for your flock.
Andrew Glynn added; 'as the new ZincoIsel bolus is made of a unique soluble glass, it is important that the bolus is brought to body temperature before administration. Failure to ensure the boluses are warmed prior to administration may result in the development of fine cracks which can alter the activity of the bolus and increase any risk of regurgitation. To bring boluses to body temperature, simply remove them from all packaging and place them inside your pockets close to your body for a few minutes. Never place boluses in warm or hot water.'
The inclusion rate for the new ZincoIsel bolus is 1 bolus per ruminating sheep weighing over 30kg. Always use the correct Bimeda bolus applicator to administer the bolus. As with all forms of trace element supplementation, ZincoIsel should only be administered following on from appropriate diagnostics.
ZincoIsel is part of Bimeda's wider trace element bolus range for cattle and sheep, which includes the Cosecure and CoseIcure soluble glass boluses.
---
Legal category of ZincoIsel Sheep Bolus: Complementary Dietetic Feed
Press Enquiries
Marketing
Mary van Dijk | Marketing Manager
Other
Call Bimeda on 01466 7900