County Mayo Farmer Credits Bimeda's CoseIcure Bolus With Addressing Herd Fertility Issues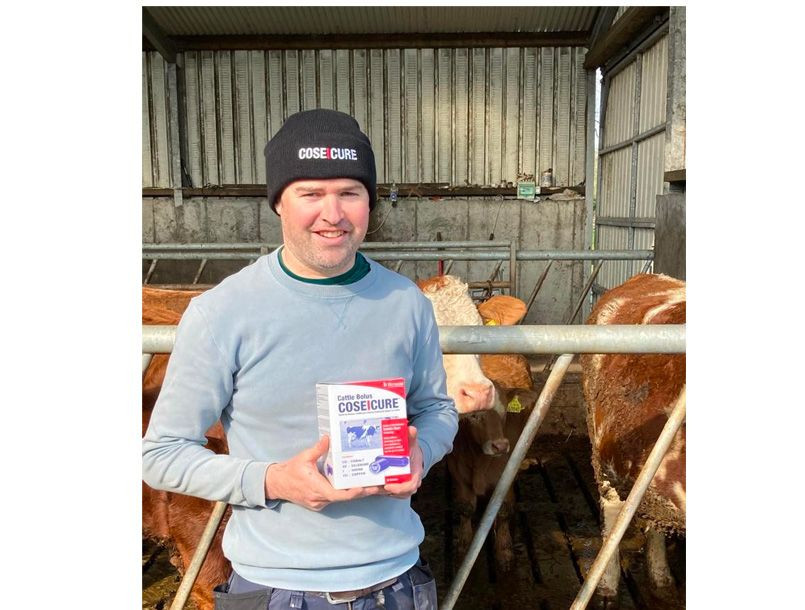 Patrick & Grainne Coen, Aghalahard, Cong, County Mayo.
Patrick & Grainne Coen head up a family-run suckler & sheep farm in Aghalahard, Cong, County Mayo. They farm 4 & 5 star Simmental, Limousin & Belgian Blue cross beef cows producing quality U grade weanlings for autumn sales.
Quality and continuous improvement are of the highest priority for the Coens. Patrick has achieved the Green Cert and the family focus heavily on breeding quality stock, using AI to access good genetics during the breeding season. Focus on soil improvement and pH is also of importance to the farmers, and half the farm has been reseeded in the last few years to produce quality grassland.


In recent years, the Coens had experienced difficulties in getting cows back into calf, with slow heats and a spreading out of the calving pattern. Patrick carried out a great deal of research and spoke to his AI technician regarding how he might improve the fertility of the herd. However, the issues didn't improve.


Later, as part of his research, Patrick read an article in the Irish Farmers Journal which detailed another farmer's investigations into his own herd's fertility issues. The farmer detailed how he had come to understand that trace element issues (deficiencies and interactions) were having a negative impact on his herd's fertility. After investigations with his vet, he had been recommended the CoseIcure Cattle trace element bolus, which delivers ionic copper, ionic cobalt, selenium and iodine and which can help address relevant trace element issues and counteract issues related to high molybdenum intake. The farmer noted that his herd fertility issues improved dramatically after introducing the CoseIcure Cattle bolus to his farm's protocol.


Patrick related to the scenario described by the farmer in the article and spoke to a Bimeda representative to learn more about the CoseIcure bolus. He felt that CoseIcure could also be right for his farm and proceeded to purchase theses boluses from his local vet.


Since introducing the CoseIcure bolus to the herd, Patrick noticed that things improved dramatically. Visually, he saw the condition of the animals improve and their coats appeared shiny and healthy. More importantly, however, all cows went back into calf and some had twins. The ICBF data of the farm has shown an improvement in the calving interval of the suckler cows. All cows now calve fine, with no issues at calving. Patrick noted that the cows now hold their body condition well over the winter, indoors on slats. The weight gain in weanlings is also above the national average, based on ICBF data.

Patrick credits the CoseIcure bolus with these improvements, believing that they addressed trace element imbalances which were impacting herd fertility.
In the past, Patrick had used other boluses, as well nutritional drenches and lick buckets, to maintain trace element balances but did not observe similar improvements in herd performance. He now recommends the CoseIcure boluses to other farmers in the area, who experience similar issues.

Infertility is a complex issue which often has many causes. Trace element imbalances can play a role in the health and fertility of cattle. Imbalances may be caused by insufficient trace elements in the diet, excessive trace elements, or by antagonistic trace elements, such as molybdenum, which can interact with elements such as copper. CoseIcure contains ionic copper, which is particularly effective at addressing secondary copper deficiency, or Thiomolybdate Toxicity, which can be an issue on farms with high molybdenum levels.
If you suspect that trace element issues could be having a detrimental impact on the health or fertility of your cattle, speak to your vet or nutritionist. Before any forms of trace element supplementation is given, it is important that appropriate diagnostic tests are conducted.

To find your local CoseIcure stockist, call Bimeda on 01 466 7941